Doppler Building is one of Amazon's headquarters building in Seattle and stands out because of its imaginative colors. The building surface is ribbon hollowed architectural decoration mesh – CNC perforated metal plate, and it is also the project that Argger cooperated with the Amazon headquarters.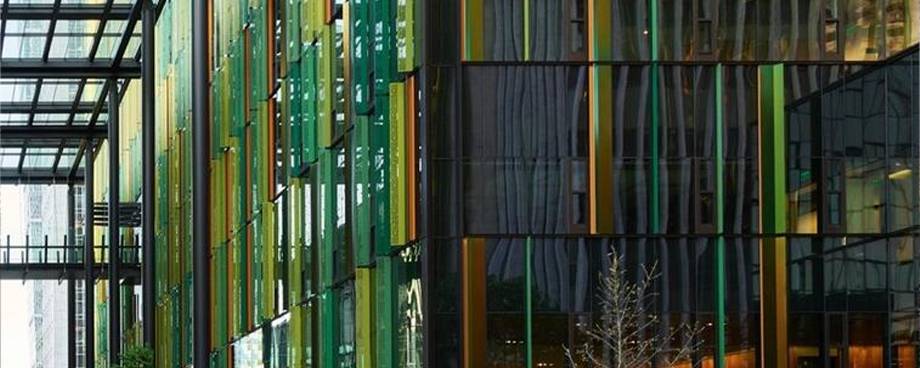 CNC perforated metal plate on Doppler Building
Customer Background
In planning, the building designer considered the corrosive substances in the air of the Seattle. Besides, this area often rains and fogs, which contain high content of salt and further leads to more chloride salts accumulated on the building surface. To ensure the durability of the building surface, the designer hoped Argger can help them find the right construction material and they also had the following requirements.
Support custom sizes and colors.
Have good weather resistance.
Installed on the high rise building surface and have good stiffness.
Negotiation & Communication
We considered climate factors and the presentation effect of architectural decoration material, and finally we chose CNC perforated metal plate as the architectural decoration material of the building facade. CNC perforated metal plate features excellent corrosion resistance and not easy to fade. It comes in a variety of custom sizes and colors according to the architectural style, and presents abundant visual effects at different light, environment and observation angles. We told our customers abut the advantages of CNC perforated metal plate. Finally, they thought CNC perforated metal plate is what they want and signed the contract.
CNC perforated metal plate production
Design, Production & Construction
To cope with the color tone of the architecture surface, we need to produce a batch of CNC perforated metal plates in different sizes and colors. We drew a lot of detailed drawings and confirmed different colors with the designer. The whole design process is very complex and requires the drafting technicians and construction personnel have great patience and care.
When the design drawings and sizes were confirmed, we arranged our factory to produce samples and sent them to our customers for confirmation. Because of the strict delivery time, we immediately put into production as soon as we received the email that confirmed the samples were qualified. The whole project took 8 months.
Gallery
CNC perforated metal plate after installation
Comments
The effect of CNC perforated metal plate after installation was amazing. Argger's products perfectly met our weather resistance and quality requirements. Their workers were professional and our cooperation also went well!